Fulfillment knowledge
Lang Fulfillment Group customers are very loyal customers
Even if they leave their traditional company. This is what happened to an employee of an advertising agency in the Mannheim area, which incidentally remains a customer of ours.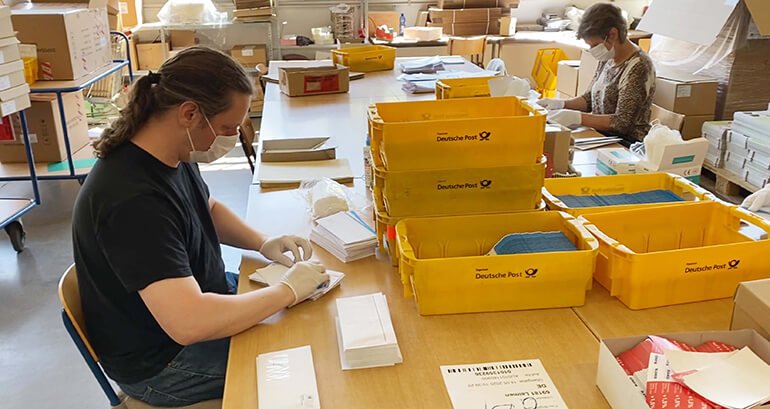 The former employee wanted to change his career and became marketing manager at a large service group. In this position, he wanted to conduct a mailing campaign to all 6,000 employees and, in addition to a "together through the crisis" cover letter, send them respiratory protection masks. Of course he remembered our great cooperation during his agency phase and contacted us immediately. The action was discussed promptly and we were allowed to carry out the following for him: Printing of a personalized cover letter in color, folding it to DL, inserting the cover letter together with a disposable surgical face mask manually into DL envelopes with a viewing window provided by us, franking, shipping postage-optimized.
Of course, the shipment was processed in-house under strict hygiene regulations. The work surfaces were disinfected, and the employees themselves wore face masks and gloves so as not to contaminate the masks being shipped.
One day after the masks arrived, his shipment was printed, manufactured and in the mail. We are proud of our years of partnerships with our customers and....
we care!